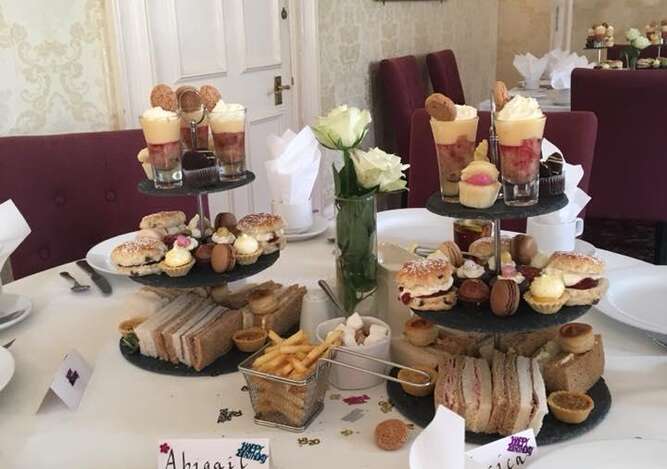 Restaurant
Within the hotel you will find the Riding's Restaurant which serves an excellent variety of traditional home cooked food. The restaurant itself has both a relaxing and intimate atmosphere and dining is found within the dining room and the conservatory. The restaurant menu itself changes on a monthly basis and provides a wide range of choices to suit many tastes. Both the conservatory and the dining room are also available for private dining events from awards evenings to birthdays, club luncheons to anniversaries.
THE RESTAURANT OPENING TIMES
LUNCHTIME OPENING HOURS
Wednesday - Friday lunchtimes tables available between 12pm - 1.45pm. Sunday Lunchtimes tables available between 12pm - 2.30pm. Two Courses £14.95, Three Courses £18.95. Food is available on a Saturday lunchtime for private events only.
EVENING OPENING HOURS
Friday NIght Early Bird Menu
Our Early bird menu is available on a Friday vening and tables available anytime between 6pm - 6.45pm. Two Courses £14.95, Three Courses £18.95. Please note this offer is not available with either tastecard or gourmet society cards
Friday &Saturday evenings
tables are available anytime between 7pm - 8.30pm. Two Courses £23.00, Three Courses £28.00. Tastecard and gourmet society cards are accepted from 7pm onwards
AFTERNOON TEA £17.95 PER PERSON.
Our ever so popular afternoon tea is served in the conservatory and is available wednesday - friday lunchtimes 12pm - 3.30pm plus on a saturday and sunday afternoon anytime between 1pm - 3.30pm
Our afternoon tea is a perfect choice for those wanting to celebrate a special occasion such as a baby shower, birthday, anniversary or even just a catch up with friends
For private parties we can cater for a minimum of twelve and a maximum of twenty four guests in the conservatory
or a minimum of twenty guests up to a maximum of fourty guests in the dining room
Our afternoon tea comprises of........
a miniature soup of the month, a selection of finger sandwiches, miniture prawn cocktail, miniature quiche, miniature vol au vont. A selection of cakes,macaroons, a minature dessert pot and fruit scone with fresh cream and jam. (plain scones are available upon request)Tea or coffee plus re-fills throughout the afternoon .
PLEASE NOTE BOOKINGS MUST BE MADE IN ADVANCE FOR AFTERNOON TEA AS WE ARE NOT ALWAYS ABLE TO SERVE IT DUE TO PRIVATE FUNCTIONS TAKING PLACE AT THE HOTEL. SHOULD YOU OR A MEMEBER OF YOUR PARTY HAVE ANY DIETERY REQUIREMENTS OR ALLERGENS WE ALSO NEED TO KNOW ABOUT THIS AT THE TIME OF BOOKING.
FOR PRIVATE PARTIES WE REQUIRE A £5.00 DEPOSIT PER PERSON UPON BOOKING.
TASTECARD MEMBERS.
Members of tastecard dining club are welcome to use their cards on a Wednesday and Friday lunchtime and also on a Friday &Saturday evening from 7pm onwards. We do not accept the dining club cards during our early bird menu, a sunday lunchtime and also for any private events which you may have booked with us. A maximum of one card can be used for tables of two-three and a maximum of two cards can be used for four or more guests. Bookings can be made in advance or on the day (pending availabilty). When reserving your table you must state which dining club you are a member of and the card must be presented upon arrival. Our offer is 241 dining and is not 50% off the whole of your bill so basically one meal is taken off the final bill when using one card or two meals are taken off the final bill when using two cards. This offer is also not available on special occasions such as Valentines, Mother's or Father's Day, Easter, Christmas &New Years Eve.
Please find below a copy of a sample menu for the restaurant. Although this is not the exact menu our menus that run monthly are very similar.
STARTERS
Chef's freshly prepared leek and asparagus soup.......... Tempura battered king prawns served with dressed salad leaves and a sweet chilli dressing......... smooth chicken liver pate served with a caramelised red onion marmalade and toasted granery bread.......... bufallo mozzarella, olives and sundried tomatoes sat on a bed of rocket leaves served with a basil pesto dressing........ gateaux of black pudding layered with mashed potato sat on a bed of picallilli and topped with a poached egg.
MAIN COURSES
Traditional roast beef served with roast potatoes and a yorkshire pudding (sunday lunchtime only).......... Supreme breast of chicken served with sauteed potatoes and a mushroom and pancetta sauce......... Pan seared fillet of hake topped with a cheese and herb crumb served with dauphinoise potatoes and a watercress sauce.........Oven braised shank of lamb sat on a bed of mashed potato coated with a redcurrant and port jus........ leek, olive and shropshire blue cheese tartlet served with chunky chips and dressed salad leaves...........Medallions of fillet steak served with a peppercorn sauce and chunky chips £4.00 supplement charge (FRIDAY AND SATURDAY EVENINGS ONLY FROM 7PM ONWARDS)
DESSERTS
mixed berry crumble served with cream, ice cream or custard......... chocolate profiteroles.............raspberry and white chocolate cheesecake...........vanilla pannacotta served with a medley of berries.............strawberry pavlova........... Freshly brewed filter coffee or tea £2.00 per person.